The following comments were sent in as a tribute to Deepak.

"Deepak was the closest friend I have ever had that died. I will miss him
very much. We didn't always see eye to eye, but we always got along very
well. His sense of humor was a delight. He was a very good friend and I
learned a lot from him. Whenever someone needed help on their computer he
was right there. Even if they broke it again the next week, he would help
them fix it and he would also ask "What did you do to it?" He has died, but
his memory will live on. He will always be in my memory. I am glad that Leo
came to me and we talked as much as we did. I hope it helped. Thank you
Leo. No one can take Deepak's place. Deepak was such a patriot, that the
last thing he did on his own was to vote. Go VOTE!
Deepak will leave a very large VOID in my life."

-Deepak's friend forever, Joe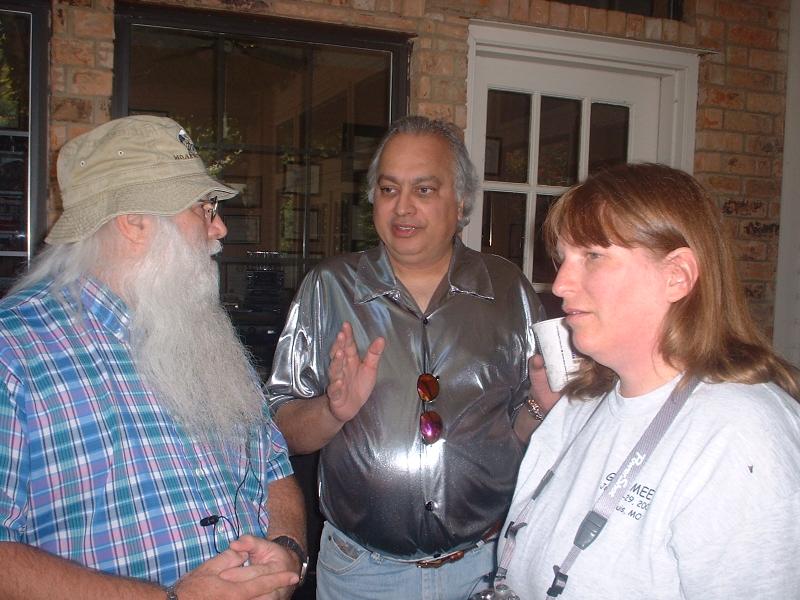 "I say that each person's life is a song. Each person's melody is different.
Deepak's song was a symphony. "

-Sue
"The last time I spoke with Deepak I gave him a hug and kiss as best I could
and told him we loved him. I also promised him I'd take care of Leo. I am a
person of my word. That seemed to comfort Deepak."
-Margie Morton
"Deepak called me one day in 2001 and asked if I would do a segment on the
program and I said sure. He was very persuasive. On the air, we ranged far
and wide, and soon he asked me to do a regular segment. No matter what I
talked about -- and I consider myself wide ranging -- Deepak always had an
insightful comment, analysis, and point of view. It was my great pleasure
to work with him. He was an inspiration to me in my professional career.
In return, I played a small role in assisting his work at Stealth3, a
venture that Deepak through himself into with his usual enthusiasm and
vigor. I will miss him as a colleague and friend. We will all miss his
wisdom, style and leadership."

-Peter S. Kastner
"Would like to share this thought with all here & those who can't be....."He Will Always Be Remembered.....As you share your stories & memories of how he lived his life & how much he meant.....May you all find comfort""
-Bob "Buddwig" Ludwig
"When Deepak first discovered that chaincast
was using his upload bandwith to many people
he was angry
That started me on my "hacking the Streams"
with his help I was able to determine how chaincast worked
and then how to "bypass" it
so part of the audio links I posted in the various chatroom
( mainly in Bob O'Donnell chat room ) are due to Deepak's
help
Deepak I will miss you even though we did not meet in person"

-Michael J. Champlin
aka Rover USSROVER DOMHAN
"Although I didn't know Deepak as well as some of the On Computers group, I
had an opportunity to spend short amounts of time with him in person and
online. He was one of the most intelligent persons I have met. He never
failed to answer a computer question that I had, and never held back any
opinions he had. I will miss him greatly, mostly his accent and innovation.
I'm confident that he will be accompanied by two blondes, on his way to his
final place. Once there, I'm sure he will be telling God how to streamline
His network."
-Tony Linguini
"I have known Deepak for about 9 months and he became both a great friend
and a great mentor while we have been getting Stealth3 up and running.
He has always been inspirational and focusing on what is important. The
last time I spoke to him last Tuesday - before going into his second
operation - he wanted to move the ball forward - he was obviously
concerned about his health but he wanted to focus on the Future not
himself - for that I have the greatest respect.
He has the best technical talent I have ever come across and the best
attitude towards life I have ever known - he will be missed."

-Edwin Westlake
"When I heard Deepak was ill I didn't realize how serious it was. When I got
the call from Joe I was shocked. I will say to his family what I should have
called to say to him. It was an honor to have met you Deepak and to have had
you as a friend. I hope you are in a better place now and without pain. All
one can hope of their life is that they can make a difference and you
certainly did so. My thoughts are with your family in this sad time."

-Barb aka hally
"Being a Mac person, whenever I have a PC question, I run to ICUG. Deepak never failed me. And when the discussion turned away from computers, usually to politics, he didn't fail me there, either. We often disagreed on politics but Deepak kept me on the straight and narrow by bolstering his argument citing the Constitution. Although he frustrated me, more often than not he was right.
I had the good fortune to meet him this past June at GeekMeet and spent a couple hours late on Saturday night in conversation with Joann, Dr. Rick and Deepak. We shared opinions as well as a drink (Deep abstained) and I will always cherish that memory.
I snuck around the corner and caught this picture of Deep conducting an interview during our Sunday show at GeekMeet, 2004."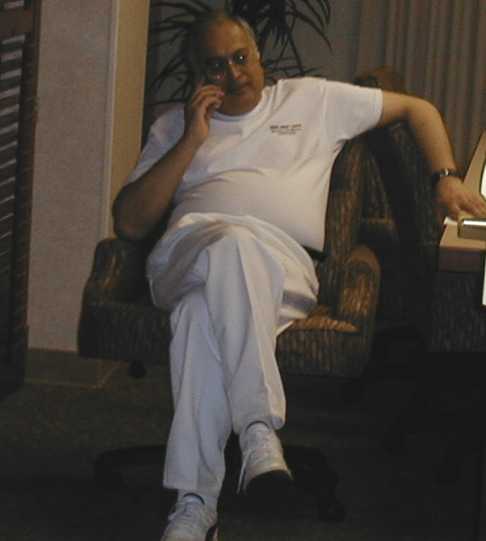 -Nancy aka Poesmom
"This is my memory amongst many. This is my most favorite photo of Deepak and I'm not sure who else has a copy. Hope you enjoy. This was taken during the show at Geek Meet 2001 in Los Angeles. To me it shows him in thought and expounding on
something or other interesting. Of course it has the Deepak trademarked Tux
hanging from a piece of Cat5. It also shows him with a great smile and look
of confidence. For me, his expression in this picture reflects his inner
being, and of course shows him doing something he loved to do. The only
thing missing for me is the orange shirt, which I also loved, but since this
was the Geek Meet show, he was in uniform that day :-)."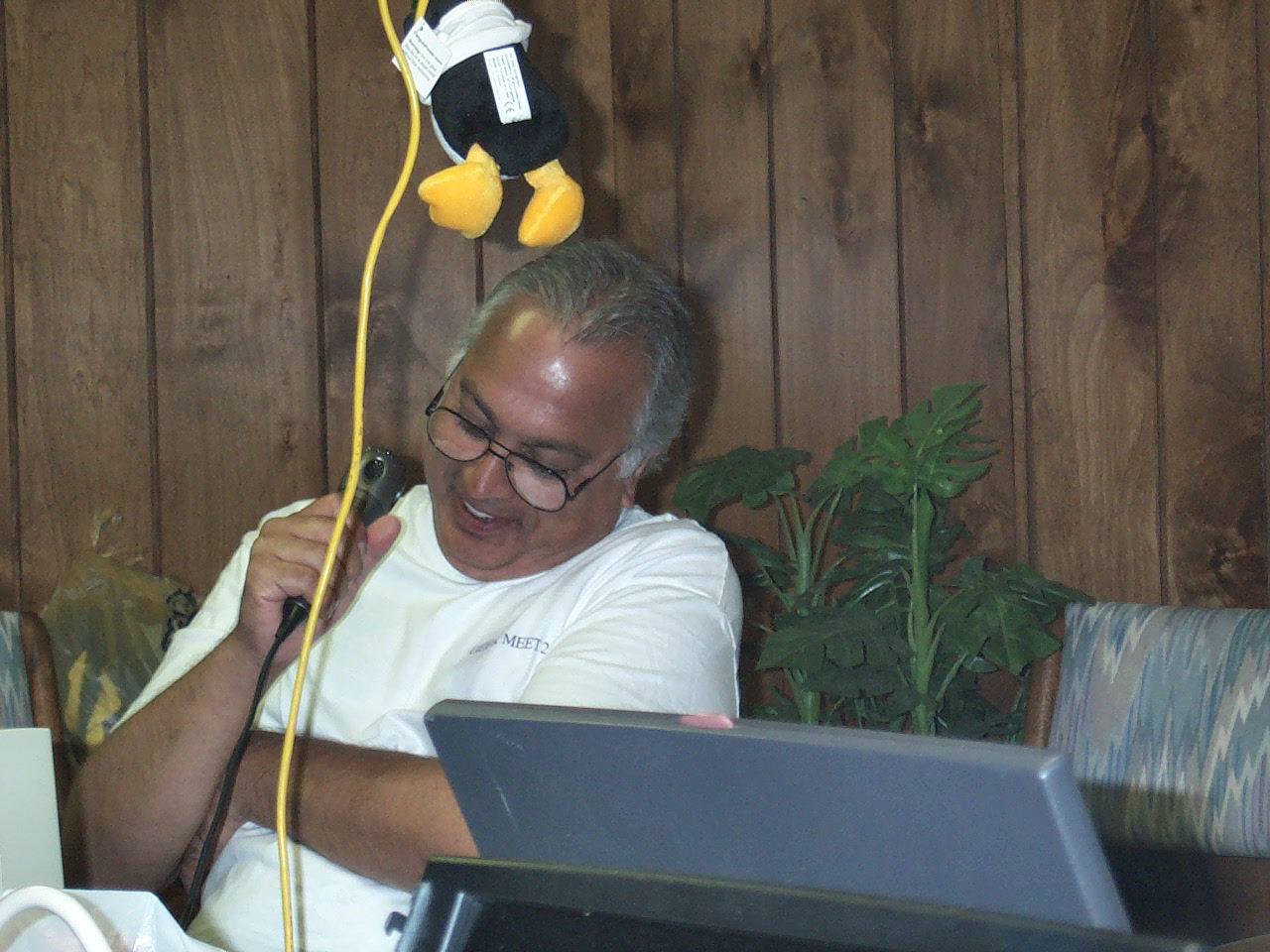 -Gail

"Having known Deepak as an online friend who un selifshly gave his time to help us with computer problems, I will miss him. Everytime I look at my Commodore 64 I will think of him. May we all do as he has done, help others as he has done. Can't think of a better tribute to him other than the one created by the Giant-One.
Adio, wli nanawalmezi
(Good-by take care of yourself)"

-Buzz

"Having known Deepak as a fellow broadcaster and tech geek and talking to him just before he went to the hospital makes we wonder if there were plans to have him in a better place. I am proud and will continue to be proud to be associated with the On Computers gang and we will work hard to keep things going the way Deepak would want them.
My thoughts and prayers are with you."

-Dana Pretzer
C Band Talk.

"I guess it is the goal of each of us to be held in such esteem by our peers
as Deepak was. He was held in such great esteem because of his integrity,
honesty, perseverance, and willingness to help. I often thought of Deepak as
being the personification of the standard that I must work towards. His life
has inspired me throughout the years I have been friends with him: it is my
hope that some of that ability to inspire has rubbed off on me.
Farewell, Deepak."

-Glenn Nitschke (aka CGuy)

"In Memory of a Great Man with a Great Mind. So
Dedicated, So Intelligent, So Determined to Help
Others. He Will Be Sadly Missed. Such an Inspiration
to Others, Good Friend and Fellow Christian. Thankyou
for All Your Help Deep. You have Helped to Make Glenn
a Good IT Student who, No Doubt, Will want to Follow
In Your Footsteps. My Sympathies to Leo and Kristi,
Your Dad was Such a Good Man in Every Way. RIP Deep,
My Friend."

-In Appreciation of a Great Mentor and
Friend, Rita.

"I first came to know him (though we have never actually met) through the icug chat room. I was greatful that he was willing to share his vast knowledge of computer and networking hardware. I would like to thank him for the free help I received.
The computing universe is a little darker today because a shining star is dimmed."

-LeMar Longhurst

"I wasn't fortunate enough to meet Deepak in person and though I had very
little contact with him, I will forever miss him. Deepak was one of
the most intelligent people I ever had a chance to talk to. He never
failed to challenge my ideas but he never failed to listen to my ideas
as well. He was a gem when it came to fixing my computer only he
didn't say "what did you do now." He always said "what did Joe do
now!" I will be forever grateful to Joe for introducing me to Deepak.
My life was enriched just by knowing him. He was and is in my prayers.
Leo can be proud to have had such a fine man as a father."

-Diana Long aka tbug

"To give some background, I started listening to the OnComputers radio
program from the days of Gina Smith on the Ventura county radio station
KVEN. That's probably since the early 80's or so. I was a newbie looking for
those wiser than I for computer information. I never really progressed to
beyond that level, but have benefitted from all those who have followed. In
fact, I was so stuck in newbie level that I felt OnComputers was beyond me
since Nathan's departure. Listening to people like Deepak made me feel so
deficient. To be frank, I tended to listen to shows like Leo Laporte who
have listerners more my level. But I always came back "home" to OnComputers
if I needed help. The latest thing I needed help on was webcasting a live
lecture for the veterinary educational organization I belong to. I was
asking for help on how to do this type of thing, and Deepak guided me
through the process. Even allowing me to use the OnComputers media server to
do it. He made me look like a genius among my peers. He said he was doing it
because "I do this part for fun." I think he truly enjoyed helping people in
need. The world needs more of the Deepak Midha types and can't afford to
lose them. My world will miss this man who didn't know me from Adam, but was
willing to help as if I was a personal friend."

Ken Ninomiya, DVM
American Academy of Veterinary Acupuncture website maintenance staff member
(ksn)

"I was greeted this morning by the sad news that a gentleman I used to work with has died; felled by an aneurysm right after casting his early presidential vote.
While we had been out of touch for several years and had some personal disagreements, the news saddened me and it seemed particularly ironic to hear that Deepak, a man who had worked hard to become an American citizen after coming here from England to work, had died right after voting. To him, the ability to vote in his chosen land mattered greatly."

Kate Chase

"I've been really slow writing this. THe impact of Deepak's passing has
taken some time to sink in. The size of my personal and our collective
loss is only now becoming apparent.

I've known him for a number of years. He has stayed in our home and I
chose Deepak as the "best man" at my wedding because of all we'd shared.
The last few years hadn't been particularly kind to Deepak, though as
was his wont, he was clawing himself back up when his illness took him
from us. I had had my own difficulties and we had shared closely with
each other throughout to husband our strength and prop up our
willingness to continue onward. I owe him for that. Deeply.
I learned how to do support from Deepak and a select few others. And how
to value my own work when representing it to those I had served.
Deepak's gentle humor in the midst of other's difficulties always seemed
to lift their burden and I worked hard to emulate that. Deepak also
taught me much about being a good citizen. Indeed, I met him just after
he became a naturalized U.S. citizen. He went by the nickname "Citizen
Deepak" then, in recognition of something of which he was extremely
proud; his citizenship. He never lost his [nearly] rabid sense of civic
duty.

I'm sure I have not yet begun to catalog all the ways in which I will
miss you, my good friend. Wherever you are, look down on us and smile,
once in a while."

-Jack Imsdahl, daWabbit

"I would like to express my pain on this matter as I have know Deepak for over 4 years now. Guess we all love to have him back for at least a minute just to say thanks for everything Dee. I owe him more than 75% the things I know about a computer, that talks about how much he enjoyed helping. I didn't know much about him, but I felt he was my friend, not close, but friends.......we don't have many. This empty space he leaves on the community is had to accept as I know we all liked him a lot. Hope this very sad moment makes us better persons, living day to day to do good. I feel funny because I'm 31 years old and I never even heard his voice, non the less this is the the first time in my life I can say "I will miss someone that just died", I have never lost a family member and just once a close friend in my childhood. I'm from Panama and i live in Monterrey, Mexico, just to let everybody know, Deepak had good friends around the globe. ONCE AGAIN........THANKS AGAIN FOR EVERYTHING DEEPAK AND REST IN PEACE FRIEND."

-Alberto J. Coutte, "Braveheart"

"Although I never had the opportunity to meet Deepak in person I spent many an hour with him and friends in Windows Talkshop and ICUG. I always considered him my mentor and feel a great loss in my life now that he has passed away. My condolences go out to Leo and his wife and he will be greatly missed by all of us who shared his wit and wisdom."

-Bill DeWitt, aka Bill42

"For those that may not have known him well, I first met our beloved Citizen Deepak in the Talkshop days. My first impressions were that he had to be either a walking encyclopedia or a very impressive bot...<G> He had a presence about him that made you feel welcome, like you were part of a family. Over time as I got to know him better, his humor made the biggest impression. From his SR (Scurrilous Rumors) pages to the classic one liners he coined, he entertained as well as educated everyone. He has taught me a lot, not just about computers but about life. Then when it looked as if our chat were coming to a close, he formed ICUG (Independent Computer Users Group) and kept everyone together. For that I shall always be eternally thankful, as we all know good teachers and friends are very hard to find. Which is why I joined OnComputers in the first place, to pass on any knowledge I have, or to try and help solve peoples problems. I only hope in time I can obtain as much knowledge as Deepak had, and help as many people. I am also honored that everyone appreciates the video tribute I did, as it was one of the many things he taught me to do.

And in closing, know that although his mortal life may have came to an end....He has left us all with his wisdom and knowledge, appreciation of good humor, and a fine son to carry on his life's work. For that, I am honored to say he was of the finest sort, and though his passing leaves an enormous empty space. He will live on through all of us, his "adopted" family. My thoughts and sincerest prayers go out to him and his family. Our time on earth is short, but he made the most of every day. His willingness to help everyone, no matter what the problem; be it in the computer world or personal dilemma. His efforts to educate all that he could. And most of all his humor, which brought smiles to so many. Make him one of the most cherished friends a soul could seek, Rest in Peace my friend, till we meet again."

-Nate Bodkin
aka Giant_One


"Deepak, I cannot begin to say how sorry I am you passed. I hope you check
the tribute page daily to see just how much we truly miss you. We know you
have at least a T3 up there :-D Say hi to your blond for me, and next time
you take a spin in your Formula One car, think of all the times we'd wake up
to see you just going to sleep from a night of watching it on the
television. You were the father I never truly had. You comforted me in times
when no one else could. You always there for me with a guiding hand and a
smart remark to cheer up my day. We will always keep pictures of Deepak and
recordings of the show so we can let our children know his great wisdom and
kindness. As he was near the end, Leo and I spoke to him in hopes he could
hear us, at least on some level. We told him we love him (sadly I never got
to say that while he was alive) and that we will always let our children
know what a great man he was. As this election is nearing an end, I hope
everyone that could vote voted, at least in the memory of Deepak and his
last willful act. He left a legacy. I will end this now as I cannot find the
right words to define my utter and complete loss and void in my life now. A
few quotes I found on the day of his passing that I believe defines his
beliefs: "

"The God who gave us life, gave us liberty at the same time." - Thomas
Jefferson

"I'm a great believer in luck, and I find the harder I work the more I have
of it." - Thomas Jefferson

"Never stop believing in yourself, always stand up for your beliefs, and
never give in nor compromise your integrity nor yourself!"

-Kristi/Elylion

"I met Deepak through my Husband, Jack (daWabbit), and what a blessing that has been in my life. Right after one of my hospitalizations a few years back, Deepak came and stayed with us for a few weeks to help out. I can't tell you what a blessing that was. When Jack and I had our "Wedding" Ceremony, no one could have filled the role better than Deepak as "Best Man" for Jack. The story has been told of Deepak and the Sweat Lodge the night before the Wedding and how he couldn't believe what Jack was getting him into. Well, I was in that Lodge and all I can say is that it was an honor to Pray, Purify and Heal with Deepak Midha. I will always have that memory. What a blessing! And, what a blessing Deepak Midha was to me and will continue to be in my heart. (This picture is from just after the Wedding Ceremony. Is this a Happy Man or what?). "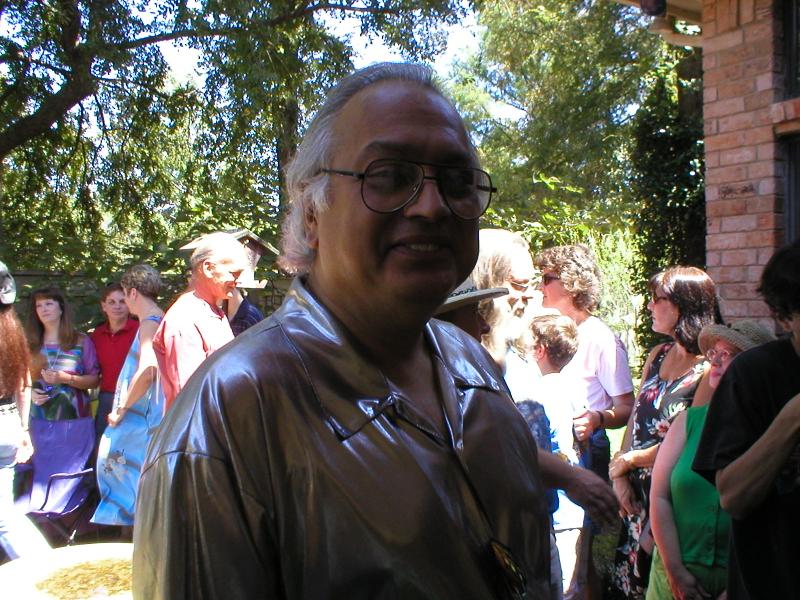 -Jayna Gause (Otter)

"Deepak, you were a patriot, a friend, and a darn good computer tech. You
will be missed."

-Josiah Meurer
"For some one who doesn't know what to say (me)
I think Deepak knew his way
Down the road to the very small door
Where GOD himself said open the door
Your journey is over you are home
So rest and wait you will not be alone "
-Bill (copier)
"While still in shock of Deepak, Its hard for me to put into words what many things Deepak helped me with. He was a true friend and allowed great lattitude with my temper.

Always he had something to say that was positive. Besides the civic lessons which were many. He was kind, thoughtful, and remained objective and cool about most things. His most common line was " let me know when your done stewing".
Deepak - you are a great man, hope to see you in the next world. "

-My sympathies To Leo and his wife.
"last stanza of longfellow's Sunrise on the hills

The veil of cloud was lifted,and below
Glowed the rich valley, and the river's flow
Was darkened by the forest's shade,
Or glistened in the white cascade ;"
-Joanne
"I was saddened to learn that Deepak passed away. I just got back from my honeymoon and was going to listen to the interview when I saw the message on your web site. I worked with him on an interview with my StorageTek client just a few weeks ago and found him to be a facinating and warm individual.
Please accept my heart felt condolances on the loss of your collegue and friend."

-Ray Santos
"I would like to pay tribute to an on-line friend... Deepak. He always
was so patient with me when I was asking questions and trying to
understand the answers. He never seemed to be upset with my slowness
in understanding and stayed with me untill I fully understood all that
was necessary to solve my problem. I shall miss him so very much...."
-"Dig `Um"
"I have missed the show for several weeks. I returned this week and was
shocked to see this news. Deepak really gave the show focus and it will
be a challenge without him. I can remember many times when Deepak
helped people because he really listened to their problem and did not
just give the first answer off the top of his head. I don't know his
religious beliefs, but I hope he is comfortable in heaven."
-Ralph (Severian in the IRC)
"What Joe said earlier, Deepak is the smartest guy I've known. He was giving of his knowledge in all fields, and a good soul. I miss him more than being five years old ."
-David Patterson
"I did not know as well or meet Deepak as many others had. However, since my first computer was bought several years ago, I was always able to get advice from him and many others. I know I was very bothersome at times being new to computers, but he always showed a tremendous amount of patience in walking me through my problems. My heart goes out to his family and close friends."

- Rick, AKA Rickdog67
"To all that knew him, He was a light hearted person with a zest for computers. He never turned away from a problem or a friend. may he find his way to heaven as easy as he did around a computer . Best wishes to his family "

-Mr. John M. Balint
"He was always there when I needed help. When I was feeling down I knew I could always count on Deepak to make me smile. His sense of humor was like a ray of sunshine peeking through on a foggy day.
I feel honored to have been able to meet him in person at the last Geek Meet. I just wish I had taken the time to get to know him better. Deepak touched us all, and even though he is no longer here with us in the physical world, a part of him lives on in our memories. As long as we have those memories of him, he will never be totally gone. Deepak will be missed by all who knew him. "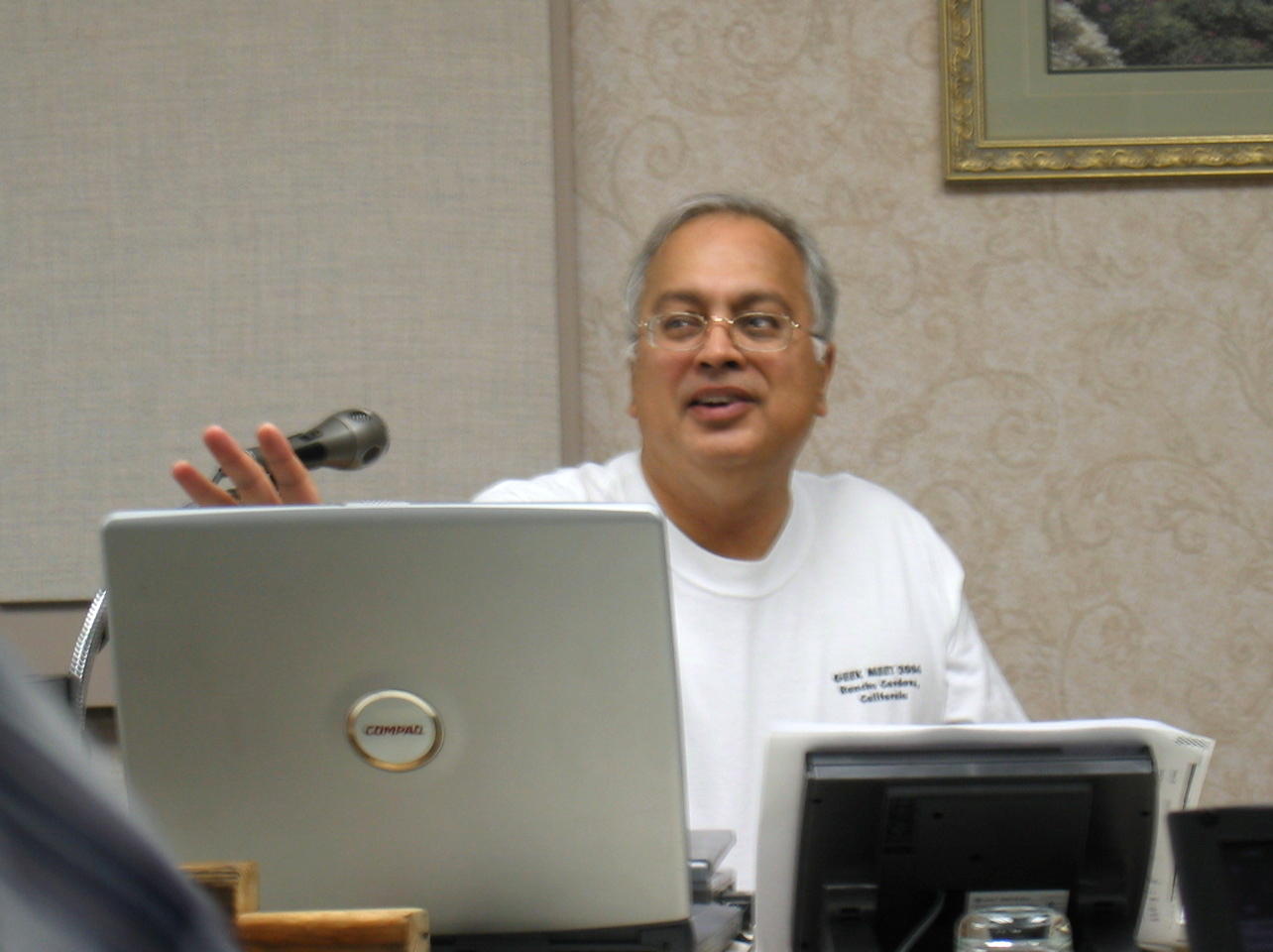 -Linda a.k.a. Brandylin
"Not knowing him as well or as long as some others; I might not be able to say ALL that I
liked about Deepak.. To me he was friendliest one of the On Computers geeks; but not to say
the rest weren't ... He even gave me a parting when we left the GeekMeet in St. Louis or was
it the Irving "wedding show"????
In fact he even helped me w/ several computer problems w/ e-mail advice.. He just came
across as a friendly out going person, & even I will miss hearing him speak & give advice... On Computers & Deepak is/was one of the reasons I listened to the show....
It will be a privilege to call him a friend, even if it was a long distance one!! Now I know
I should have gone to the 2004 GeekMeet, if only to see & hear him (& the rest too) again... Am surprised how emotional I got when I finally understood he wasn't w/ us any more, especially
seeing & hearing the tribute that Giant-One had made & put up on the site....
* God be w/ him & **bless** the rest of his family!!* "
-James P. Brian a.k.a. Cyclegeek
"It was with great sadness that I learned today that Deepak had passed away. While I was never fortunate to have met him in person, I always looked forward to my visits to the ICUG room because Deepak was there. Whenever I had a problem with a computer I could always depend on Deepak to have a solution. His kindness spread out even further than computers. A couple years back when my personal life seemed to be in shambles, I remember him asking what was wrong. For a good many nights we would talk and he helped me with his strength and insights to get though a trying time in my life. The world has lost a great man and friend to many people.
To Leo and Kristy I offer my deepest sympathies. It was an honor to know your father and call him friend."

-Arion Thedy
"Hi!
I would like to pay tribute to an on-line friend... Deepak.
He was always there when i needed online help to solve computer
problems. I had him on my yahoo messenger list, just a click away.
I never got the chance to meet him in person, the distance were to long
for that."
-Egil from Sandefjord , Norway